Welcome to "A Blip of Bliss"!
January 7, 2018 - blog post 2 - Inspired
Every day when I look in the mirror I make judgements. I see all my imperfections, a few extra pounds, a bad hair day, wrinkles and other signs of aging…I notice it all and I judge myself. Occasionally though I will be in a fancy restaurant where the lighting in the ladies' room is just right and I see my reflection in some gorgeous mirror and I think "Wow, I look pretty good today!" And in that moment, I feel great about myself. There is a spring in my step and I feel so much more self-confident.
And that is exactly how I feel every time I am with my friend, Rebecca. She's the gorgeous mirror reflecting all the very best in me. Rebecca has stage 4 metastatic breast cancer, but you would never know it. She's so beautiful and full of life. Since she was diagnosed in 2015 Rebecca has raised over $1.7 million dollars to fund research to fight this horrible disease. She is fighting for her life, raising her beautiful children, spending all her time raising money to fund research for metastatic breast cancer so that she can help so many others and yet every time we are together she encourages me. She inspires me be the very best version of myself. She says things like, "You are so uplifting! You are divine! Don't you give up!" I want to do more. Today's recommended song says, "we are (all) meant for more" and people like Rebecca inspire us to become more. I am so very grateful to know her.
As we begin 2018 I wish for each of you at least one person that inspires you the way that Rebecca inspires me. Because I know with all my heart that when we are inspired we are kinder, more creative, more caring, more generous and the world becomes a better place. Thank you, Rebecca for showing us the way. I am so very grateful for you!

Today's quote
: "Those who bring sunshine to the lives of others cannot keep it from themselves." - J.
M. Barrie
The
beauty
of friendship: Renee (left) and Rebecca Timlin-Scalera (right)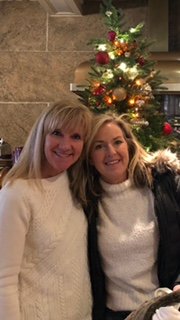 November 26, 2017 - blog post 1 - What kind of world do we want?
People always tell me what a positive person I am. I'm known for saying "It's all good!", but the truth is, I see the negative too...it's just not what I want in my life. I say focus on what you want, not on what you don't want. In fact, my parenting mantra was to "ignore the bad behavior (or redirect as often as possible), and reward the good behavior". It's an effective approach in so many areas.
My goal with "A Blip of Bliss" is to bring you something positive each week...a little joy, a little beauty, a smile, a happy song, a pleasant thought. If I'm lucky, you will find something you like enough to share with someone else. If each of us are just a little more positive and we all spread a little of that positivity to just one other person, we will begin to change the world.
So maybe today is a good day to ask ourselves, "What kind of world do (we) want?"
Today's quote
: "Our deepest fear is not that we are inadequate. Our deepest fear is that we are powerful beyond measure. It is our light, not our darkness that frightens us. Your playing small does not serve the world...We are all meant to shine as children do. It's not just some of us; it is in everyone. And if we let our own lights shine, we unconsciously give other people permission to do the same." -
Marianne Williamson
Beauty
is all around us. We just need to notice it. My thanks to my friend and amazingly talented artist, Rachel Romano, for this beautiful work of art:
"Life Luminous"...